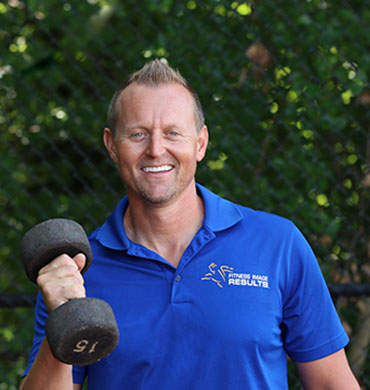 Proverbs 14:32 All hard work brings a profit, but mere talk leads only to poverty. -"Do Something!"


Best of Loudoun Personal Trainer Winner 2022
Best of Loudoun Personal Trainer Finalist 2023
SPECIALITY
Creating, Designing, Implementing, and Coaching Functional Fitness for all Populations and Environments.
EDUCATION
Marymount University
Bachelor of Science, 1998
Major: Health Science
Lacrosse Player
Captain: Sophomore and Senior Years
2nd Team All Conference
US Army Reserve, 1992 – 2000
CERTIFICATIONS
Certified Personal Trainer, National Academy of Sports Medicine (NASM)
Corrective Exercise Specialist, NASM-CES
Performance Enhancement Specialist, NASM-PES
Youth Exercise Specialist, NASM-YES
Senior Fitness Specialist, NASM-SFS
Weight Loss Specialist, NASM-WLS
Certified Nutrition Coach, NASM-CNC
Bio:
I would like to take this time to share with you my story and testimonial.  My journey with the Lord started at a young age.  I came to Christ at the age of 13, and it changed my life even at that young age.  In my life, I've experience multiple life changes where I would fall into sinful ways and God would rescue me.  Of the many life changes, there are two major life changes I want to share with you.
I was what most people called, "the problem child" or "the bad seed".  I was always getting into trouble and never caring about the consequences of my wrong doings.  By being a hyperactive child where I would always act out, everyone thought my hyperactivity was the cause of my bad behavior.  I didn't know how to control my energy.  Moreover, I was fearless, got into fights and didn't care about other people's feelings.  School became difficult and it seemed that I was always getting into trouble.  However, because I was looked at as "the problem child", it just added fuel to my fire so I wanted to be the toughest guy on the block and didn't care who got in my way.  It is important to mention that this was not from a lack of discipline on my parent's part.  I was whipped, grounded, timed out, you name it they tried, more times than I can count.  What made my situation even more difficult to accept is that my older brother was the perfect child.  He was a straight "A" student, calm, cool and collected.  I think he had the IQ and maturity of a 30 year old at the age of 12.  Now this truly made me think that I was evil at times and that I was just meant to be that way.  In an attempt to figure out why I was acting the way I was, my parents sought the advice of a psychologist to ensure that there wasn't something mentally wrong with me.  The therapist said I was fine.  It seemed as if only God himself could help me.
Thank God for my Mother.  She is, in my eyes, a very godly woman and you could see the presence of the Lord in her.  She would shower my brother and I with the importance of accepting Christ and having Him live in our every day lives, however, she made it very clear that we needed to choose to follow Him and accept Him as our Savior for ourselves.  We would go to Church so I thought that was enough to believe in God.  After immersing myself in our Church and the youth activities, I found that my relationship with Christ was growing deeper and deeper.  It was to a point that the light bulb finally went off in my head and for the first time, I understood and longed to have a relationship with Christ.  Because of my Mother's support,I would finally accept Jesus Christ into my life and truly new what that meant.  When I accepted the Lord as my Savior, I was baptized.  From then on, I became a different person without even noticing it.
There was no medicine, no punishment, no psychologist that could help or change me like the Lord did.  I actually started to care about other people, their feelings and wanted to be a good kid.  That year I even made the honor roll.  It was 6th grade and I can remember it like it was yesterday.  The school year was 1987-1988 and it was the first time I would walk across the stage to receive an honor roll certificate.  I remember sitting there many years before making fun of the kids walking across the stage but deep down inside I wanted to be up there too.  My change was a total shock to everyone.  That same school year, I earned the coveted "Most Improved Student Award" for our entire elementary school.   The award typically went to the "smart kids", but my behavior changed so drastically that it was noticed by everyone.  Winning these awards were the first and most significant changes in my life, all because of the Lord.
Now, as the years went by I was on a roller coaster ride of ups and downs.  I would fall into a sinful nature and then God would come to rescue me.  Regardless, of where I was I always felt the presence of God around me.  I would talk to Him like he was my friend.  As a teenager, my Mother had always told me about the importance of having daily devotionals with the Lord and reading the Bible.  I would have short devotionals and read the Bible; however, this only occurred when I was going through hard times.
As I headed to college and many years following, I felt as if I was drawing farther and farther away from the Lord.  I got caught up with other idols of success, money, fame and power.  Again, I would go back to Him whenever I was going through a tough time but wouldn't pay Him any mind when things went well.  Of course, I would thank Him occasionally when things went especially well, but now it seemed like more of an after thought.  I always knew this was wrong and could feel sin pulling me down.  It was as if He always had a string tied to me and when I was heading the wrong direction, he would pull the string tighter and pull me back to Him.  My turmoil was caused by my own wrong doings and sinful nature.  I was my own worst enemy.  In retrospect, I know in my heart that he rescued me from my self-destructive path because I accepted Him as my Lord and Savior as a teenager.  God had never left me when I would leave Him.
As I continued on this roller coaster ride of sin and moving further away from God, I longed more and more to have a closer relationship with Jesus.  As my sin increased, I started not to like myself and what I was becoming.  At this time I had made a very bad decision that would affect my life tremendously and then turn my life around completely.  I was going through this difficult situation and had no idea what the Lord had in store for me.  It felt like the Lord had completely abandoned me.  I remember dropping to my knees and crying out to Him.  I begged for His help.  I asked, "Why me? What did I do wrong?"  I was angry at Him and blamed Him for putting me in this painful situation.  Although, I was angry, I knew I needed Him more than ever and that I had to take steps to initiate getting closer to God.  This is when my relationship with the Lord made a major change and it changed who I was and had become completely.
I committed myself to reading the Bible…every single page of it.  Not just having devotions here and there but actually sitting down praying, reading, and focusing on the words.  Christmas of 2007 is when my sister-in-law gave me a NIV Life Application Study Bible.  It was exactly what I needed.  It was if God handed it to me and said, "Now you are ready to hear what I have to say.  Read this."  At that moment, I committed myself to reading it from cover to cover.  It was not a commitment that I was going to "read just to read" or finish as fast as I can.  I wanted to truly focus on it and try to understand what God was saying.  If I noticed I was drifting off or not paying attention to what I was reading I would stop and pick it back up when my attention was there.  These writings were too important to me.  When it came to verses that were difficult to understand, I would turn to the Study Bible section to help me comprehend God's message as it applies to my life today, especially in the Old Testament.  As scriptures went by, I noticed I wanted to read more and more.  I couldn't wait to pick it back up to hear what else the Lord had to say.
The Bible was and is completely changing the person I am from the inside out.  I really wish I would have devoted myself to reading it sooner in my life.  God is changing me through His word.  I have discovered that this is God's instruction manual on how to live righteously, to avoid sin, to treat people, to handle bad situations, as well as to obtain true knowledge and wisdom.  The most important lesson was that no matter what life may bring our way, God loves us.  He loves us so much that He sent His only son, Jesus, to earth to die for our sins so that our sins will be forgiven.  It tells us that Jesus rose from the dead so that we can have the Holy Spirit dwell in us and have everlasting life with God.  The impact the Bible has had in my life is amazing and has changed me as a person forever.  I continue to read His word and discover new things, especially about myself.
The Lord has blessed me more than I had ever thought possible.  Mainly, he blessed me by changing me from the person I was to the person I continue to grow into.  He has motivated me to find a good Bible Church and being active with other Christian followers.  In doing so, I have reconnected with my college sweetheart, Chris Ann.  We have now been married for 7 years and have 4 amazing children (Caleb-6, Charlotte-4, Joshua-2, and James-10 months).  We are both committed to centering our lives and our family on God.  What a true blessing!
I would encourage you to just pick up the Bible and start reading it if you haven't done so already.  There are many ways to start reading the Bible so do whatever is comfortable for you.  There isn't a right or wrong way to start.  The book of John is a great place to begin.  Ask God to open your heart and speak to you as you read it.  Leave everything else at the door…your opinions, your theories, your doubts, and just listen to what it is telling you.    I can't urge you enough to just pick it up and start reading.  It will change your life too!